Project Architect
RELEVANT TECHNICAL EXPERIENCE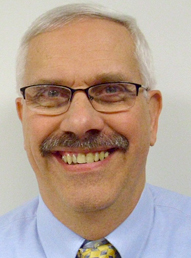 Mr. Landis is a registered Architect in the Commonwealth of Pennsylvania and a certified Building Code Official, building and plumbing inspector, accessibility plan reviewer and inspector with the State of Pennsylvania. Having passed the test through the International Code Council, this allows him to be certified in all other states. He is a LEED Accredited Professional certified with The Green Building Certification Institute.
Mr. Landis has over 42 years experience in architectural design, facility engineering, estimating and construction management. Prior to joining Advanced Building Design, LLC, Mr. Landis was associated with CTC Enterprise Ventures Corporation, Crown American Properties, Inc., Hinks and Locher Engineers and Greensteel, Inc. While at Crown American, he was responsible for the design of 26 Shopping Malls and 12 Hotels as well as various third party Construction Management Projects.
As a Project Architect, Mr. Landis works with clients to prepare conceptual designs for their projects. From the conceptual design, he prepares detailed construction drawings, itemized cost estimates and construction schedules to meet the client's needs. His responsibilities during the construction drawing and bidding process are to coordinate with the client to ensure the project is staying on budget and meeting the project's criteria. He provides support to the construction supervisors during construction phase of the project, which includes drawing and specification interpretation, shop drawing review, and design changes to meet field conditions.
EDUCATION
Associate Degree, Architectural Technology, Williamsport Area Community College
PROFESSIONAL LICENSES & CERTIFICATIONS
Registered Architect: Pennsylvania
LEED AP by Green Building Certification Institute
Certified Building Code Official, Building & Plumbing Inspection, Accessibility Plan Reviewer & Inspector: Pennsylvania Department of Labor & Industry
MEMBERSHIPS
Project Management Institute
International Code Council
Pennsylvania Building Officials Conference
COMMUNITY ORGANIZATIONS
Sandyvale Memorial Garden and Conservancy – Vice President of Board
Johnstown 2025 VISION – Member of Historic Building/ Capture Team
SELECTIVE EXPERIENCE
ITSI BioScience New Office/Laboratory (Johnstown, PA)
Johnstown Housing Authority Kitchen and UFAS Renovations (Johnstown, PA)
Cambria County Redevelopment Authority Three New Prefabricated LEED Certified Homes (Johnstown, PA)
Holiday Inn Express Renovation (Johnstown, PA)
Arbutus Park Retirement Community Apartment Renovations (Johnstown, PA)
Mount Aloysius College Cosgrove Center Expansion/Renovation (Cresson, PA)
Valley Mall Renovation (Hagerstown, MD)
Viewmont Mall Expansion/Renovation (Scranton, PA)
Mock Towers Executive Lofts (Johnstown, PA)
Point Stadium Renovation (Johnstown, PA)
Johnstown Housing Authority Vine St. Towers (Johnstown, PA)
Arbutus Park Retirement Community (Johnstown, PA)
Renovation of Logan Valley Mall (Altoona, PA)
H & M Retail Store (Phillipsburg Mall, Phillipsburg, NJ)
Johnstown Housing Authority Oakhurst Homes Boiler Replacement (Johnstown, PA)
Arbutus Park Retirement Community Physical Therapy Expansion (Johnstown, PA)
DNA Laboratory/Administrative Facility (Abuja, Nigeria)
Three New "LEED for Homes" Developments (Johnstown, PA)
DNA Complex (Abdjul, Nigeria)
Forensic Center and DNA Lab (Lagos, Nigeria
Email Gary:  landisg@abdcsllc.com